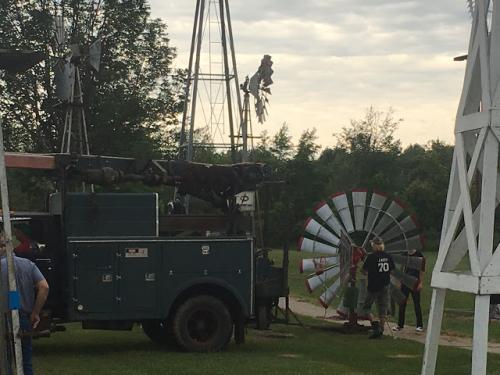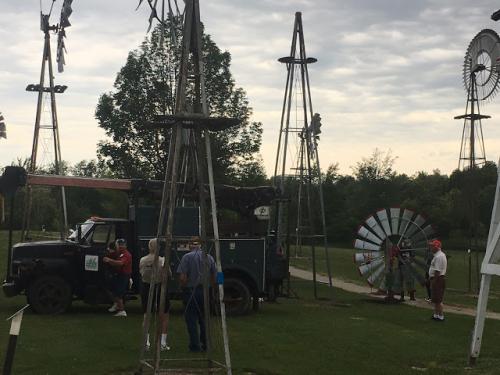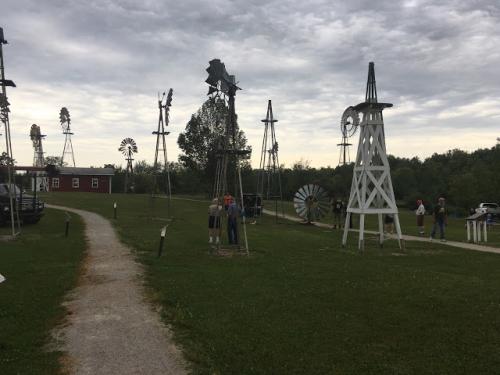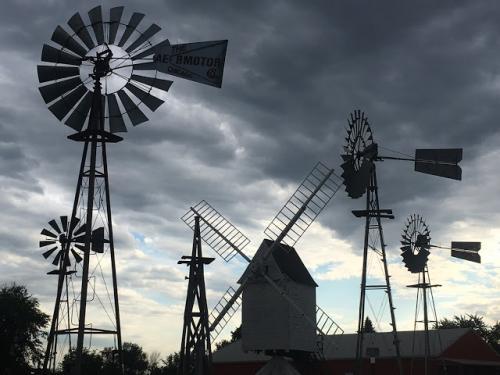 2017 International Windmiller's Trade Fair: Day Four
Our fourth and final day in Kendallville began bright and early with an event outside on the grounds of the Mid America Windmill Museum. Attendees got the opportunity to watch the installation of a Fort Wayne windmill onto a steel tower. Todd Skinner and Jim Koch of MAWM performed the installation surrounded by a fairly large crowd of intent onlookers. Shortly after the Fort Wayne windmill installation, the auction got under way with a good selection of rusty iron available. After the auction was finished, everyone made their way indoors for the annual trivia contest hosted by Dr. T. Lindsay Baker. The 75 windmill history questions proved a challenge, but in the end the matchsticks were tallied and the top three winners received some nice door prizes. (See the picture below for the winners.) 
After the trivia challenge, the business meeting got under way to decide the location for the 2019 IWTF. There were three locations vying for the chance to host in two years time. We presented our plans for the event and the activities we hoped to make available, as did the representatives from the other two locations. The votes were tallied later that night at the 29th Annual IWTF Banquet. The banquet that evening was really nice and featured great food, live entertainment, and some presentations. Dr. T. Lindsay Baker gave a great talk about windmiller Garnet O. Brooks. The 2017 Billie Wolf Award was presented by Coy Harris to Francine Popeck & the late Bob Popeck. 
At the end of the banquet, votes were submitted for the location of the 2019 Trade Fair. The votes were then collected and tallied....
We are pleased to announce that the Kregel Windmill Factory Museum in Nebraska City will be the host for the 2019 International Windmiller's Trade Fair!
We would like to express our sincere gratitude to all the attendees, hosts, presenters, and vendors at this year's Trade Fair. Although the Kregel Museum as an institution has had representation at the IWTF in the past, it was David and I's first Trade Fair experience and we received such a warm and gracious welcoming into the fold. Whether it is your first Trade Fair or 29th Trade Fair, all those that attend are kindred spirits united by a love of rusty iron. We hope to see everyone next year in Lubbock, TX at the American Wind Power Center and we will do our best to put together a memorable few days here in Nebraska City in 2019!

Kregel Windmill Factory Museum is a 501(c)(3) nonprofit museum operating with tax-deductible donations from generous individuals, foundations, grants and corporate sponsors. Kregel Windmill Factory Museum is not government owned or operated. EIN: 20-8943847